Stuffed omelette

with crunchy vegetables and ricotta
Easy and fast second plate to prepare, crunchy and soft thanks tothe tasty and delicate mix of vegetables and ricotta.
An alternative fanciful solution to classic eggs.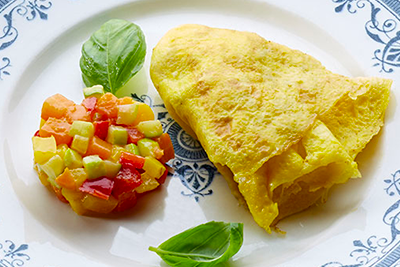 Stuffed omelette with crunchy vegetables and ricotta
Descrizione
We reveal you a trick that might interest professionists: if you want that your omelette has an optimal consistency, as soon as you start to cook the eggs in the pan, move it forward and backward for at least one minute.
This simple gesture will enhance the final risult and your plate will be ready to be tasted.
Another suggestion that concers vegetables which should be sliced at the last moment, otherwise the risk is that they lose part of the nutritious substances due to air and light contact.
A good wine appropriate to go with this recipe, could be the umbrian Grechetto, fresh and not very structured, or even a little tannic red wine like Rossese di Dolceacqua.
Preparation
Vegetables preparation
Take a pan, pour some oil, add minced onion and let it brown over low heat until it becomes trasparent;

In the meantime peel the pepper and the aubergine with the peeler, cut them into cubes, same for the courgettes (which, however, mustn't be peeled), and unite the whole in the pan with a taste of salt and basil leaves;

Cook over high heat for about 5 minutes, so that the vegetables will result crunchy;
Omelette preparation
Break the eggs in a bowl, add a pinch of salt and beat them with a fork;

Light the fire under a pan with a little oil and pour in the previously beaten eggs;

When the eggs have coagulated, spread the ricotta by adding a pinch of salt;

Distribute the vegetables on half omelette and close with the other half.
Plate composition
Serve the hot omelette decorated with a couple of basil leaves and maybe some other crunchy vegetables, next to it.