Crosted bread

, crispy vegetables, ricotta and a poached egg
A strong flavour appetizer made with simple and genuine ingredients. They are really fast to make and they can become an original solution for a brunch o for the salted breakfast lovers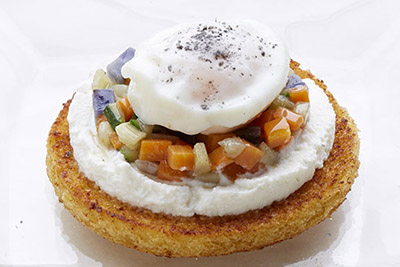 Crosted bread, crispy vegetables, ricotta and a poached egg
Descrizione
The crusted bread are power boosts to face even the most exhausting days or the cold winters. If you want to try new versions, try to substitute the vegetables with spinach: with the Ricotta they make a classic and timeless match.
The egg has an important persistence: it deserves an effervescence like a "Blanc de noir". Try a "Pavese" Classic Method, for example
Preparation
Preparing vegetables
First carefully peel the carrots, then rinse zucchinis and cut the vegetables in a half-centimeter cubes;

Parboil the vegetables in salted water for 2 minutes, then cool them down into water and ice to maintain their bright colours. Let them drain in a strainer;

To make them crispy, stir-fry with a little bit of extra virgin olive oil.
Preparing ricotta
Take a bowl and mix ricotta with cream to obtain a soft full-bodied cream.
Preparing the poached egg
Full a high edge casserole of water and add 2 spoons of vinegar. Make it boil.

Break the egg into a little bowl;

Mix the boiling water with a wooden spoon, to create a vortex in which you verse the egg. Let it cook for 3 minutes;

Gently, remove the egg with a skimmer and put it on a piece of blotting paper.
Preparing the crusted bread
Create some discs of wonder bread with a food ring mold;

Get the butter melt on a pan and let the discs sauté on both the sides.
Composing the dish
Take another food ring mold and create a ricotta cream layer on the hot crusted bread discs; using another food ring mold (You need 3 of them in total, in diameter scale), put the crispy vegetables on and, in the end, lay the poached egg;

Before serving it, you can add a pinch of salt, some freshly ground pepper and a little extra virgin olive oil.