Fennel salad

, oranges, ricotta and walnuts
Modern, funny, energetic and refreshing starter or second dish,ready in few minutes. Tastier in the winter period, when orangesare juicier and fresher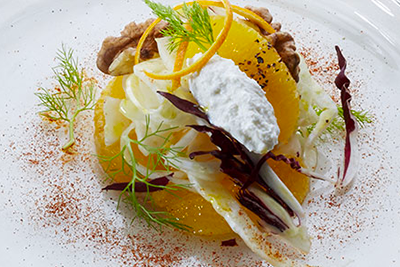 Fennel salad, oranges,ricotta and walnuts
Descrizione
want to give a little advice to peel the orange: first of allcut the bottom, then, holding it, peel with a saw bladeknife. Pay attention to follow the curvature, removing theskin and the white part.
The persistent and fragrant smell of an IPA beer will exaltthe oranges taste!
Preparation
Preparing ingredients
First of all prepare fruits and vegetables: peel of the oranges, leaving the white part and the slices skin too; wash the chicory and the fennel, slicing them off.
Composing the dish
Dispose all the ingredients on your dish, using a ring mold. Then add a bit of grated fresh finger;

Dress with extra virgin olive oil, salt and pepper to taste. Add neither lemon, nor vinegar because the oranges will give you that acid taste you are looking for.