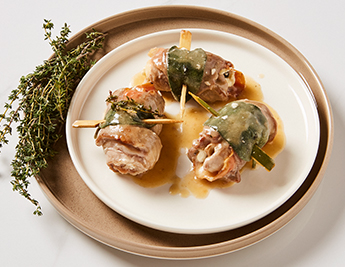 Meat rolls Saltimbocca
Descrizione
Try these rolls with seasonal vegetables for a colorful and tasty dinner.
Method
Spread the veal slices with Fresco Spalmabile Elda, place them on top of a raw ham slice and close it like a roll with a toothpick and a sage leaf.

Heat a pan with butter, then place the rolls and sauté for a few minutes.

Blend with the white wine and finish cooking with a ladle of broth.

Reduce the sauce and serve.