Paccheri

pasta with ricotta and spinach filling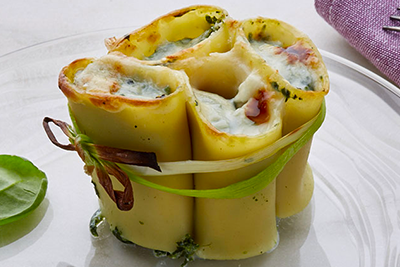 Paccheri pasta with ricotta and spinach filling
Description
An advice to improve the crispy effect? Turn the grill on for the last 5 minutes and you will obtain some crispier and tastier Paccheri pasta.
I would match this dish with a soft, but intense Italian white wine like a "Falanghina del Sannio" or a "Capri Doc". The "Falanghina" wine, in particular, has a good acid flavor that is useful to create a contrast with the creamy taste of the ricotta.
Preparation
Preparing paccheri pasta
First of all, cook into boiling salted water the Paccheri pasta, keeping them on tooth;

Drain the Paccheri pasta on a dishcloth to let them cool down.
Preparing the leek
Cut the leek through its long side to make many stripes about 1 cm wide;

Sear the leek into boiling water untill it will become easy to bend. You can also leave it to macerate some hours before with abundant salt.
Preparing the filling
Whip with an egg beater the ricotta and verse some extra virgin olive oil in, little by little, until you will obtain a cream;

Once rinsed the spinach, you should squeeze them carefully and then finely chop them. Finally, mix the chopped spinach with the ricotta cream;

Add the parmesan cheese and some salt, pepper and nutmeg to taste.
Preparing bechamel
Make the butter melt into a pan. Then get it away from the fire and add the sifted flour;

Cook the mixture for some minutes mixing costantly. Pay attention it doesen't keep too much colour or it doesen't stick to the pan. In this way you will obtail the "roux", the essential compound to make béchamel;

After having got away the pan from the fire again, add the hot (Or at room temperature) milk and mix it with a wooden spoon;

Put the pan on the fire again, make it cook on a low heat untill the sauce will become to boil and add a pinch of salt, pepper andabundant nutmeg;

Boil for some minutes untill it will thicken itself. Now the bechamel is ready!
Filling and cooking the paccheri
Finally, fill the Paccheri pasta and put them into a monoportion "cocotte" 4 by 4;

Bind them carefully with the leek stripes and cover them with bechamel;

Add a final dusting of Parmesan cheese and put the "cocottes" in a 400 °F (200 °C) oven for 15/20 minutes.
Composing the dish
Plate the Paccheri pasta and decorate with a basil leaf, or as you prefer, and serve them hot.