Parthenopean speciality that combines the unmistakable or Ricotta and pears.Fanciful, but genuine. The dessert we are proposing you is a mix of originality and tradition able toconquer even the most sophisticated palate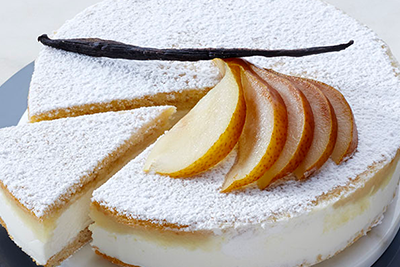 Ricotta and pears cake
Descrizione
If you have time prepare the sponge cake discs the daybefore and keep it in the fridge in a plastic bag. They willbe more practical to use and you will be able to managebetter your work.
The choice of the Kaiser pears is derived from theparticular consistency of their pulp, finely grained and veryjuicy, suited for this kind of cake.
Try to match your Ricotta and Pears Cake to an Italianwine as the "Moscato d'Asti", with its pear notes that willbe well combined with its taste.
Preparation
Preparing the sponge cake
Take a bowl and mix softened butter (2 hours out of the fridge) with sugar, whipping the compound to have a cream;

Toast the hazelnuts baking them at 360 F° (180 °C), then chop them and mix with the flour;

To the "hazelnuts and flour compound" add the "butter and sugar compound" and the albumen (Not whipped) little by little, alternating them;

Verse the compound into two cake pans with 22 cm in diameter and bake at 340 °F (170 °C) for 20 minutes. If it is possible, use a ventilated oven. They will result golden;

Take the cake pans from the oven and let them cool down.
Preparing the filling
Mix and whip the cream with sugar, Elda Ricotta and half a lemon juice;

Cut into little cubes 2 pears and cook them about 30 minutes (Until they will become tender) in a syrup made with water, sugar and half a lemon juice;

Mash the compound you have obtained.
Composing the cake
Insert one of the two sponge cake discs inside an opening mold (22 cm in diameter);

Cover the sponge cake disc with the cream and spread the mash on;

Pose the second sponge cake disc on and leave the cake rest in the fridge for at least 2 hours;

Remove the opening mold and dust with abundant powdered sugar;

Boil the leaving 2 pears in a syrup made with water, sugar and half a lemon juice, as you have done before. Cut into many slicesand lay them in the center of the cake;

You can keep the cake in the fridge for at least 2 days.