Risotto

 with pumpkin, ginger and ricotta
Light, nourishing and colorful first course, perfect for the autumn season. The risotto, if creamed with Ricotta, exalt the pumpkin taste. The ginger harmonizes the sweetness of the other ingredients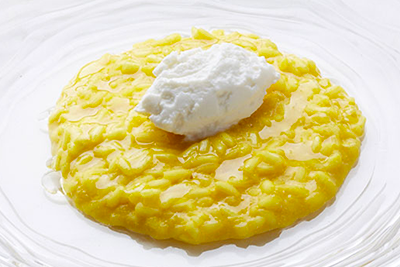 Risotto with pumpkin, ginger and ricotta
Descrizione
A handy recipe to make even at the last minute. A little advice for a preparation even quicker? Cut the pumpkin into very small pieces!
To cream it even more, try to make it "jump" on the pan, once ready.
Preparation
Preparing the pumpkin
First of all clean the pumpkin removing the seeds, then cut it into big pieces;

Then peel the pumpkin pieces and cook it with little water for about 15 minutes (or less, if you cut it into small pieces);

Boil for at least 30 minutes. Adjust with salt to taste.
Preparing risotto
Heat little extra virgin olive oil in a large, heavy-bottomed saucepan over medium-high heat. Then toast the rice;

Get the rice wet with little stock and add the smoothied pumpkin pulp;

Reduce heat to medium and stir the rice adding the stock little by little. After 7/8 minutes, add the ginger. Continue stirring and adding stock until rice has absorbed the liquid and turned creamy (15/16 minutes). Once cooked, the rice should be tender;

Remove the saucepan from the fire and make your risotto "jump in the saucepan". Then add half of the ricotta, Parmesan cheese and a butternut.
Composing the dish
Lay your risotto on the dishes;

Make some "quenelles" with the remaining ricotta. "Quenelles" are stretched "ricotta-balls" made with two teaspoons that you should put in the center of every dish.