Scallops

on ricotta and violet potatoes mousse
Maybe you've never heard anything about violet potatoes: don't panic. You can find them in the majority of Italian grocery stores.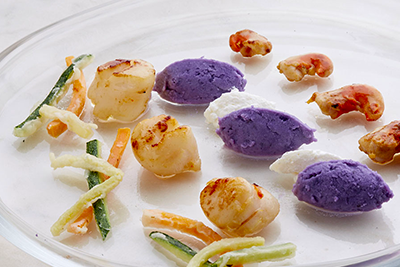 Scallops on ricotta and violet potatoes mousse
Descrizione
I want to give you another little advice about the scallops:don't buy them frozen because they will lose on taste andpay attention the scallops will be well anchored to theirshell to be sure they are fresh.
Try to serve it with an Italian Classic Method sparkling winelike a "Franciacorta", that will well degrease your mouth,enhancing your recipe taste.
Preparation
Preparing the mousse
Boil the potatoes with their skin in salted water, then peel and mash them;

Add Ricotta and little extra virgin olive oil, then whip the compound until you will obtain a soft mousse;

Add a pinch of salt and keep it warm in a water bath.
Preparing vegetable spaghetti
Cut the carrot and the zucchini on the long side, maintaining a 1 mm thickness. Repeat this operation to obtain your "spaghetti";

Coat with flour the "spaghetti" and fry them in seeds oil until they become crispy;

Keep them hot, placing them on kitchen paper to absorb the oil in excess.
Preparing the scallops
Put some extra virgin olive oil with an unpeeled clove of garlic on a non-stick sauté pan and make the scallop brown (Use a brightfire);

Turn your scallops and add salt and pepper to taste, before turning the fire off. You will need maximum 2/3 minutes to cook thescallops. Cooking them it will be very fast, you will need 2 or 3 minutes.
Composing the dish
Lay 4 scallops on the mousse;

Decorate with your vegetable "spaghetti";

Alternatively, observe the picture below. Create some quenelles with the mousse and with the Ricotta and put them in the center ofthe dish. Divide the scallops from their coral and decorate with the fried "spaghetti".